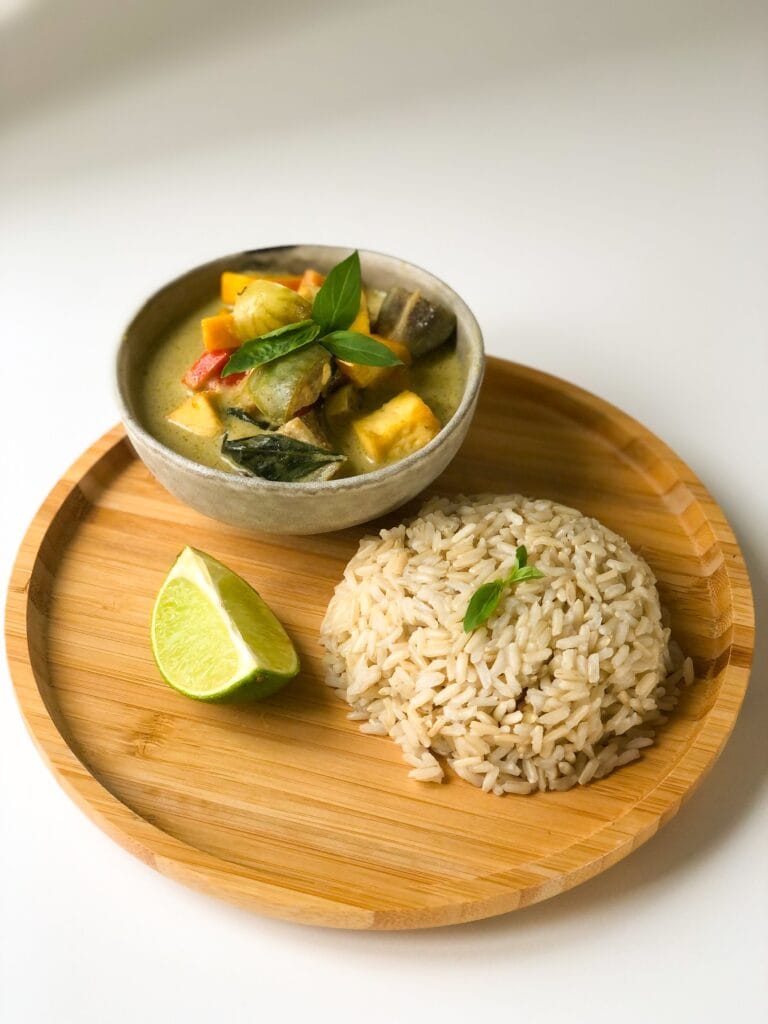 This traditional vegan Thai Green Curry recipe is delightful, vibrant, fragrant and comforting. Once the curry paste hits the hot pan it releases a tantalizing aroma that fills the air with a symphony of scents. This Thai Green Curry is actually quite easy to do as long as you can get all the ingredients. This isn't only my favourite Thai dish but also a bit of an obsession. This vegan version of a traditional Thai Green curry is also gluten free, sugar free, refined salt free and oil free but with all the aromatics and herbs you will not miss any of it. If you make this homemade paste and Curry I promise you will never buy a store bought Curry paste again.
1 can of full fat Coconut Milk

1 Tbsp of Soya sauce or Tamari (for gluten free)

1 tsp of Miso paste

1 cup of Vegetable Stock (unsalted)

10 Kaffir Lime Leaves

1 small Courgette

4 Thai Aubergines

1 red Pepper

1 cup of extra firm Tofu cut in cubes
1 cup of Thai basil leaves kept whole

Freshly squeezed Lime juice (if needed)

Red Chilli peppers sliced (optional)

Cooked Jasmin brown rice to serve
I love Asian food in general but Thai food is definitely my favourite. I've done my own Curry paste at home for many years now and tried many different recipes and variations that use different ingredients. A few months ago we spent 3 wonderful weeks in Thailand where we immersed ourselves in Thai culture, nature, temples and of course, food. We did a fantastic cooking class with Asia Scenic, I will be forever thankful to Moon for her kindness and willingness to pass over her passion and knowledge of Thai home cooking. It was such a eye opener getting to try all the ingredients beforehand to understand their place and why their flavours are so important. It really made me change the way I cook and especially the way I cook Thai food. Thai food has many variations: we never had the same Green Curry dish in the 3 weeks we were there. It changes according to the region but also every family has there own take on it. This recipe is my Vegan version of a traditional Thai Green curry paste. I never been this excited to share a recipe with you. It may have a long list of ingredients but it does come together very easily and quickly. You need some planning though as some of the most important ingredients are only available in Thai supermarkets but I promise it is worth it. You will never buy green Curry paste ever again. You can freeze the paste and create a quick weeknight meal in no time that's super delicious.
Step 1 – Pre-heat the oven at 360C. Gently press down the tofu block with a towel a few times to remove excess water. Slice the tofu into 2cm cubes then transfer to an oven tray lined with parchment paper and bake for 20 mins.
Step 2 – Slice your chosen vegetables into bite sized pieces. If using Thai Aubergines keep them in a bowl with water until is time to cook.
Step 3 – Heat a medium Dutch oven or wok over medium-high heat. Once hot add about 1/2 cup of the coconut milk. Let it bubble and sizzle and cook for 2 mins until some water evaporates and you get a more creamy texture.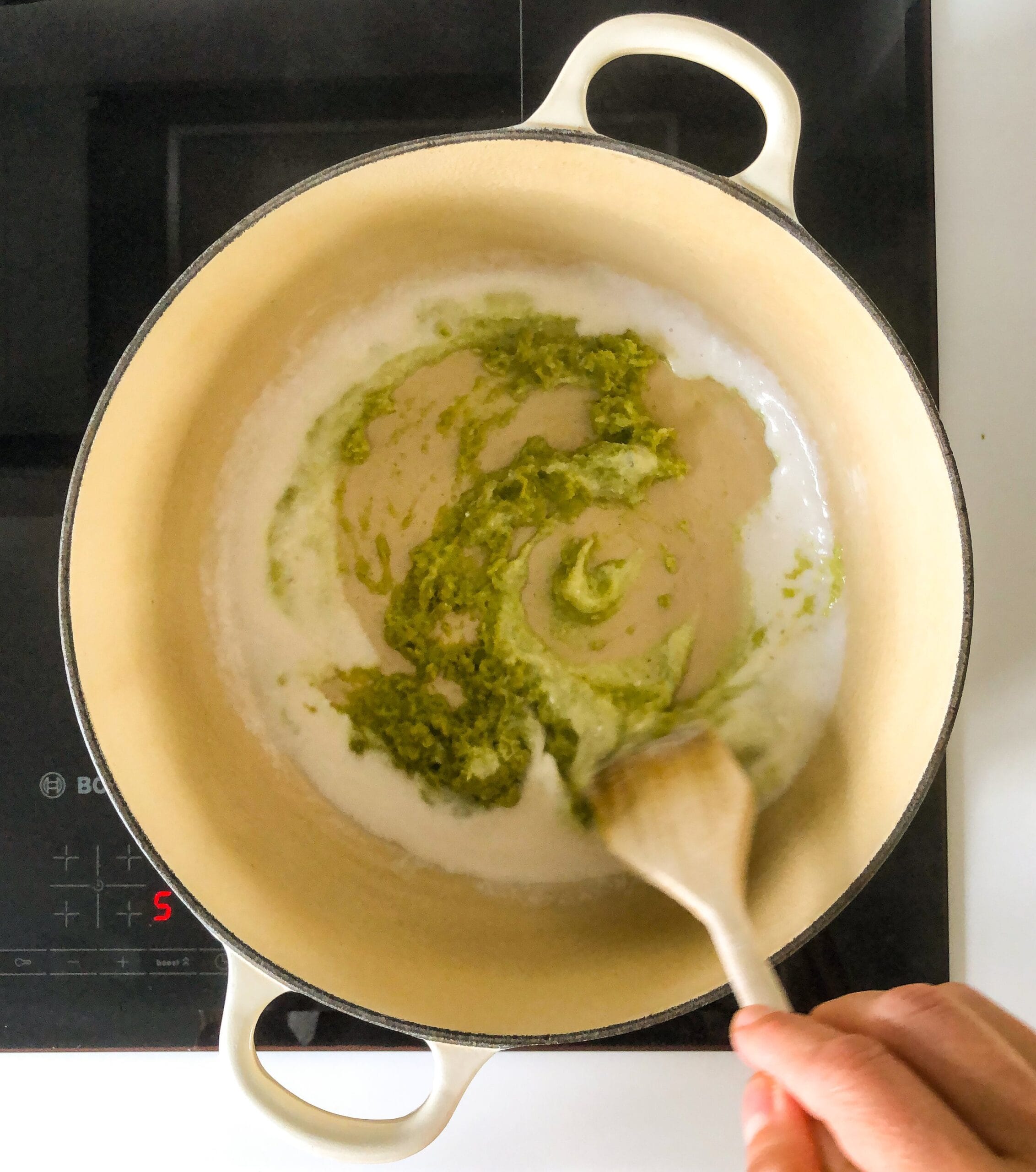 Step 4 – Add the curry paste and mix it well to combine. Keep stirring frequently and let it cook for 2-3 minutes until it starts to dry out a bit.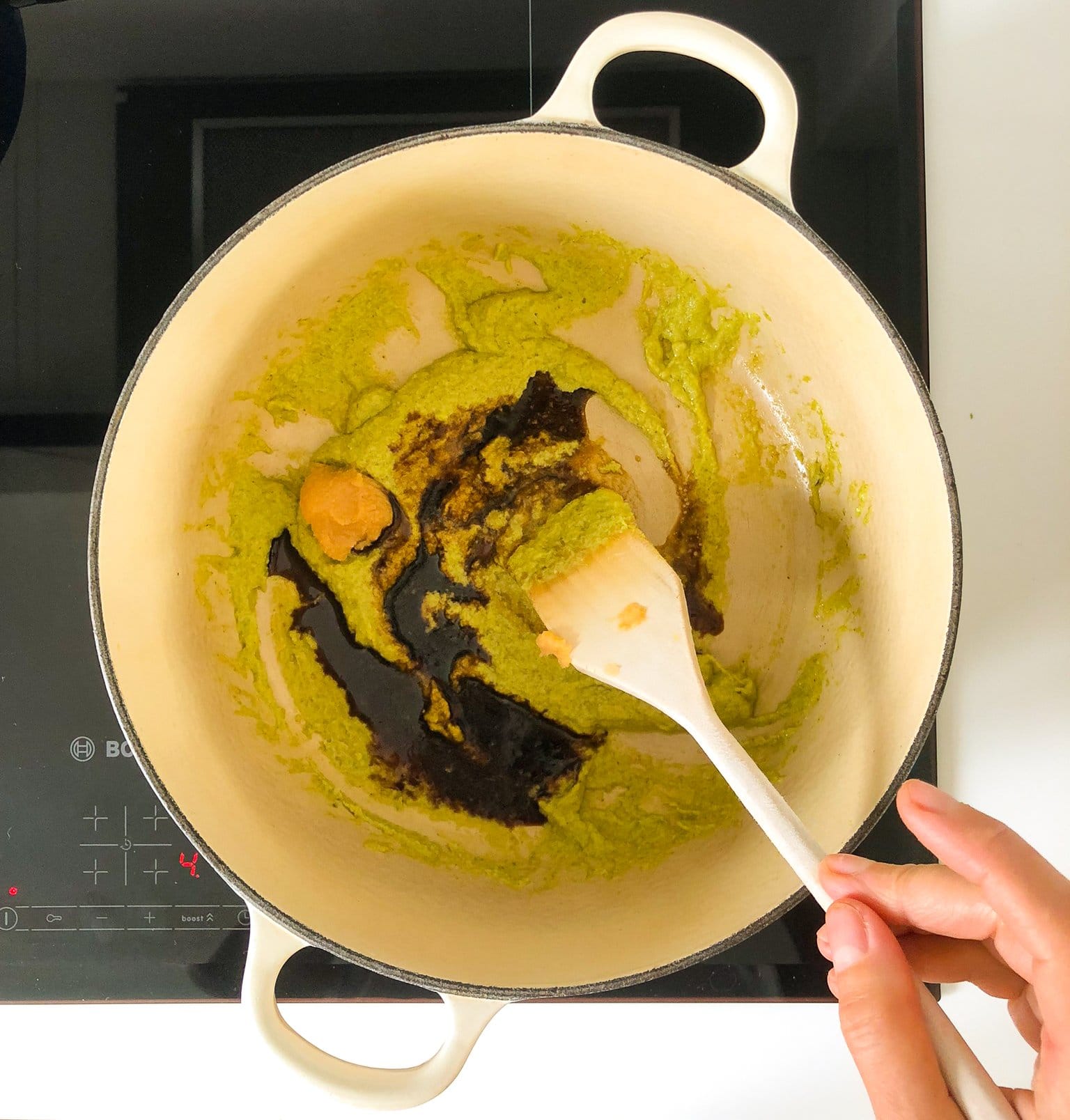 Step 5 – Stir in the Miso paste and Soya sauce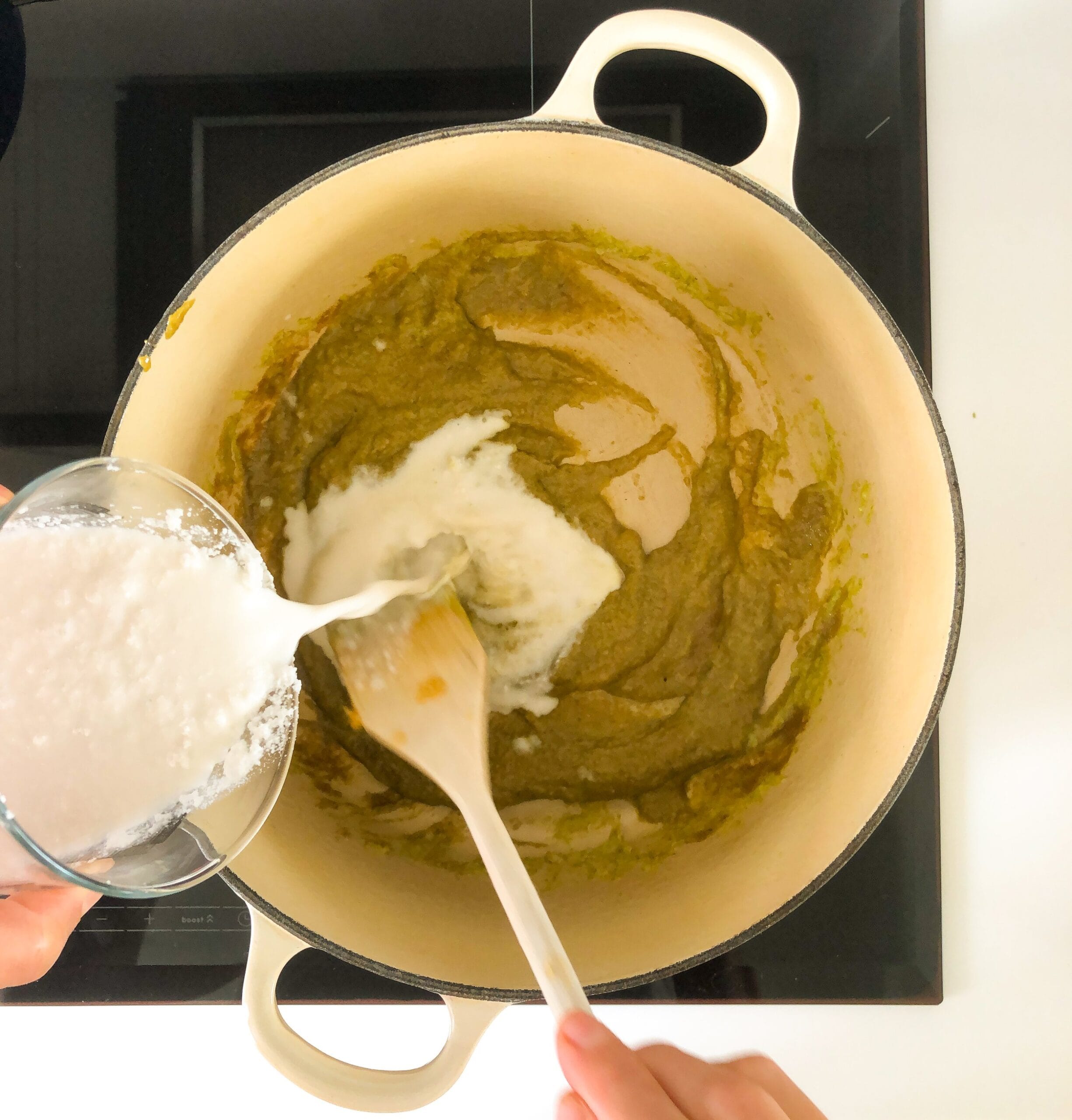 Step 6 – Pour in the remaining Coconut Milk and combine to incorporate everything. Bring to a simmer and cook for 4-5 minutes or until it just starts to thicken.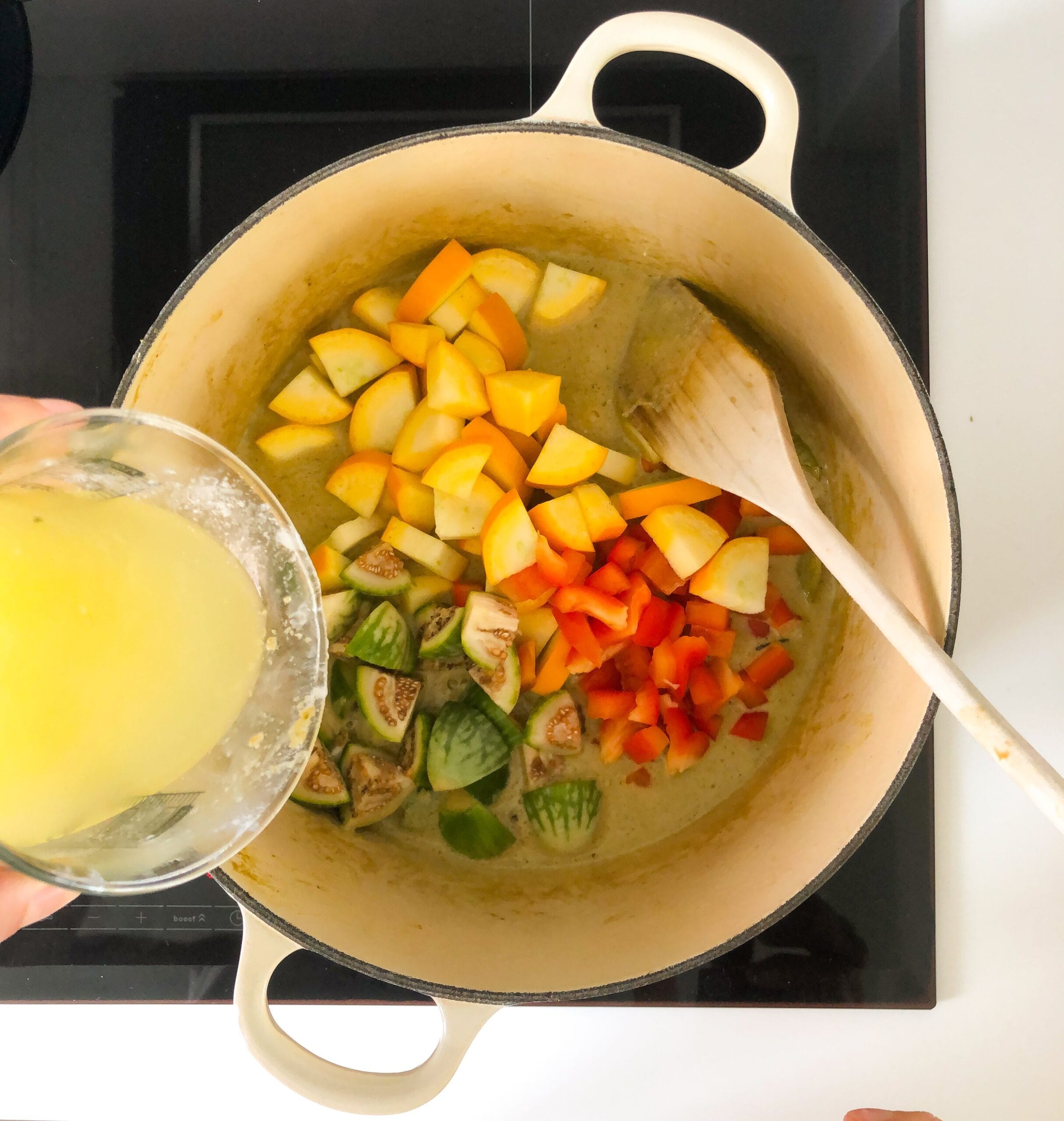 Step 7 – Add your vegetables of choice, vegetable stock and torn Kaffir Lime leaves. Stir to submerge the vegetables. Partially cover the pan and bring to a simmer then cook for 2 minutes. Take away the lid and let the curry simmer for another 4 to 5 mins to create a creamy and thick texture .
Step 8 – Turn off the heat, stir in the baked Tofu and Thai Basil leaves. Taste and add a squeeze of lime juice if needed.
Step 9 – Serve with brown Basmati Rice, a few leaves of Thai Basil, red Chilli slice if using and a slice of Lime.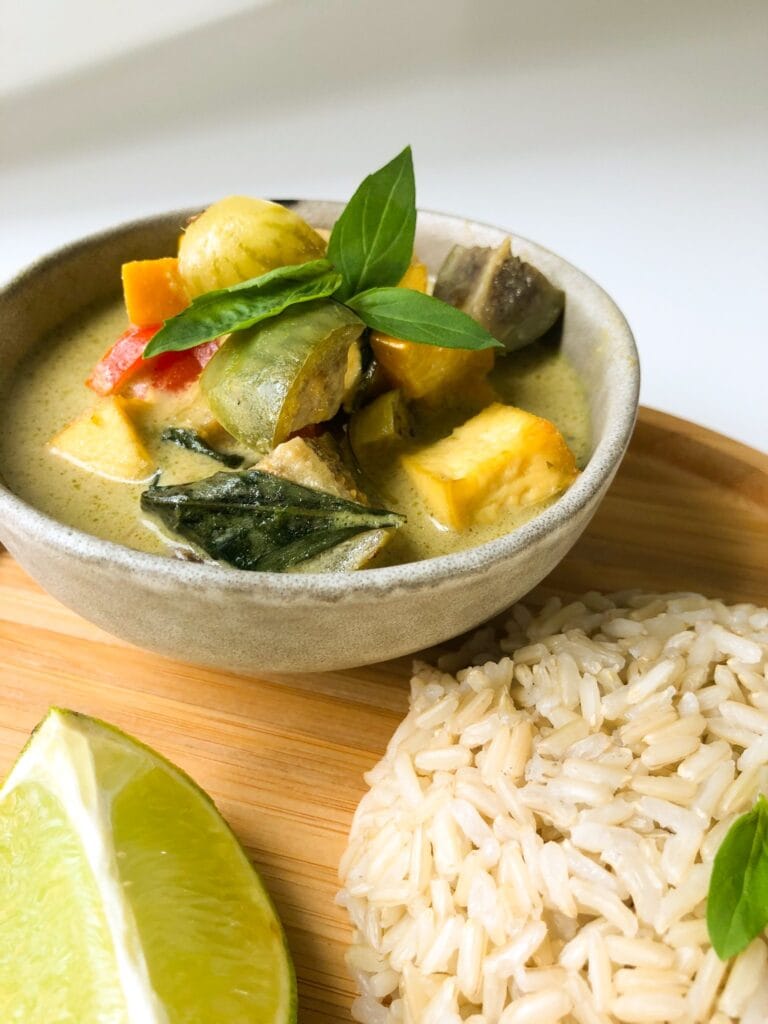 Full fat Coconut Milk: Coconut Milk is a staple in many Thai dishes and you can't really substitute. Full fat works better here as we aren't using any oil or other fat. The fat in Coconut milk helps the ingredients and spices come together while tempering and mellowing the spicy fiery paste. You will have a creamier silky and rich texture.
Soya sauce or Tamari: This adds a savoury depth of flavour and replaces the more traditionally used fish sauce. It is our main source of saltiness and umami. If you are gluten free use Tamari instead.
Miso Paste: Like Soya sauce, Miso paste adds depth of flavour and another dimension of umami, saltiness, and slight sweetness due to its fermentation. The richness of miso paste elevates this curry without the need for salt.
Vegetable Stock: Homemade stock is the best but not always around so try to get a good quality one if you can. Alternatively, you can use filtered water but it will loose some depth of flavour and result in a more watery curry.
Kaffir Lime Leaves: These are the star of any Thai green Curry and my favourite herb. I use them in many dishes, not only traditional Thai. I'm using a bit more than most recipes call for as I just adore the fragrant taste and smell they give. I normally get them fresh and freeze the remainder. This way, I always have them available in my kitchen. You can't substitute Kaffir Lime leaves I'm afraid.
Courgette, Aubergine and red Pepper: Thai Aubergines and bamboo shoots are the most authentic in Thai green curry recipes. You can get creative with your veggie choices and use what you have available and in season around you. I like to have different colours on my plate. I got the Thai Aubergines from my local Thai supermarket and Courgettes are in season now. The yellow ones just make me smile and add another colour to the curry and the same goes with the red Pepper. Not only we are adding more vitamins and a different texture but also another vibrant colour.
Extra firm Tofu: Traditional Thai green Curry always has a protein and her I'm using Tofu. To improve the texture and enhance the flavour I'm baking it in the oven. If you don't have time just omit it or use it without baking. You can use other tofu with different consistencies but it will break more easily. Tofu is a good source of several essential vitamins and minerals including vitamin B1, vitamin B2 (riboflavin), vitamin B6, vitamin E, and folate.
Thai basil leaves: Thai Basil leaves are beautiful with a deep green colour and slightly serrated edges. You can substitute with normal Basil but Thai basil has a strong, distinct flavour with notes of anise and licorice. It is peppery, slightly spicy, and has a hint of sweetness. The flavour profile is bolder and more pronounced than that of normal basil. Normal basil, or sweet basil, has a mild and sweet flavour with subtle hints of mint and clove. It is less pungent and has a more delicate taste compared to Thai basil.
Freshly squeezed Lime juice: The acidity of the lime juice helps balance the flavours. Give a taste to your Curry and add some drops if needed. Lime juice has a vibrant and aromatic quality that can uplift any curry.