Healthy Strawberry Ice Cream – no sugar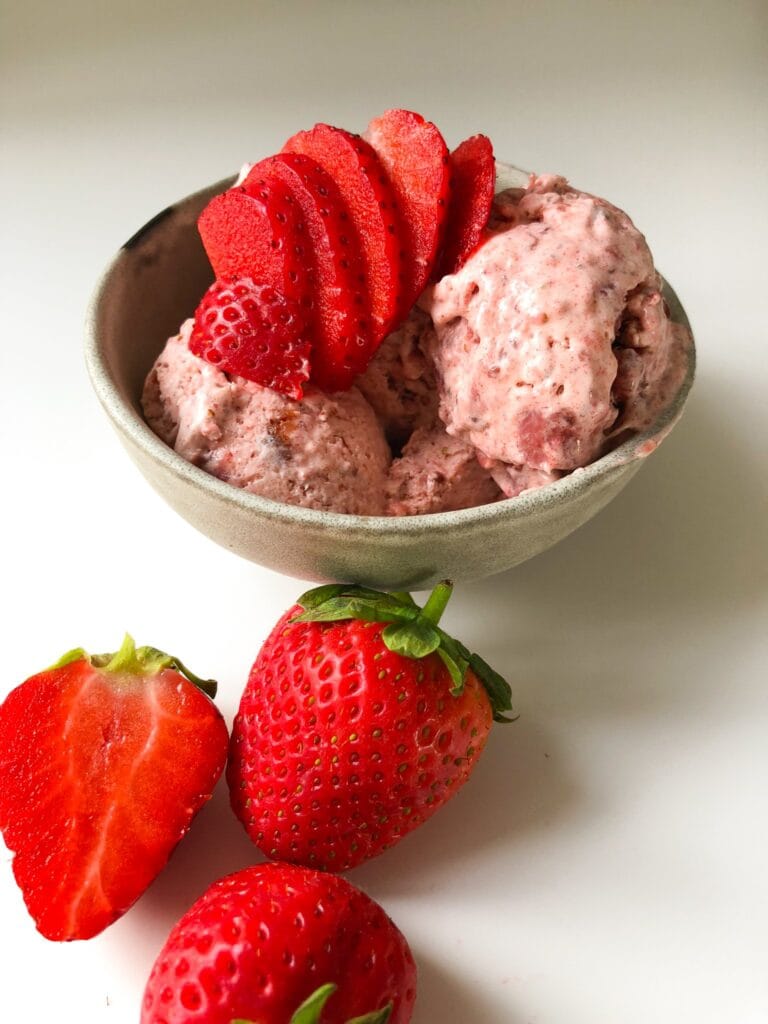 This plant based, healthy Strawberry Ice Cream is deliciously creamy and full of vibrant Strawberry flavour. It is the ultimate summer Ice Cream that is so healthy you can have it everyday without feeling guilty. It is super quick and easy to do with only 4 ingredients. It has no Sugar, no Oil and is full of fresh Strawberries. Your little ones will love it and I'm sure you will love this dessert too.
300 gr of fresh Strawberries

250 ml (1 pack) of Oat Cream

10 dates pitted and soft (soaked in boiling water if hard)
200 gr of fresh Strawberries

6 dates pitted or 2 Tbsp of Maple syrup

1tsp of Chia seeds

2-3 Tbsp of filtered water
Step 1 – We are starting with the Strawberry compote as it needs to cool down. Wash the Strawberries with plenty of water, remove the leafy tops and cut them in small bite sized pieces. Add a metal loaf pan to the freezer.
Step 2 – Add the cut Strawberries, finely cut Dates, ground Chia seeds and 2 Tbsp of filtered water to a sauce pan. Let it simmer on a low burner for 15 mins with a lid on. Mix it with a spoon every few mins until the juices are released and the berries are soft and easy to mash. Add a bit more water if needed. Let it cool down at room temperature.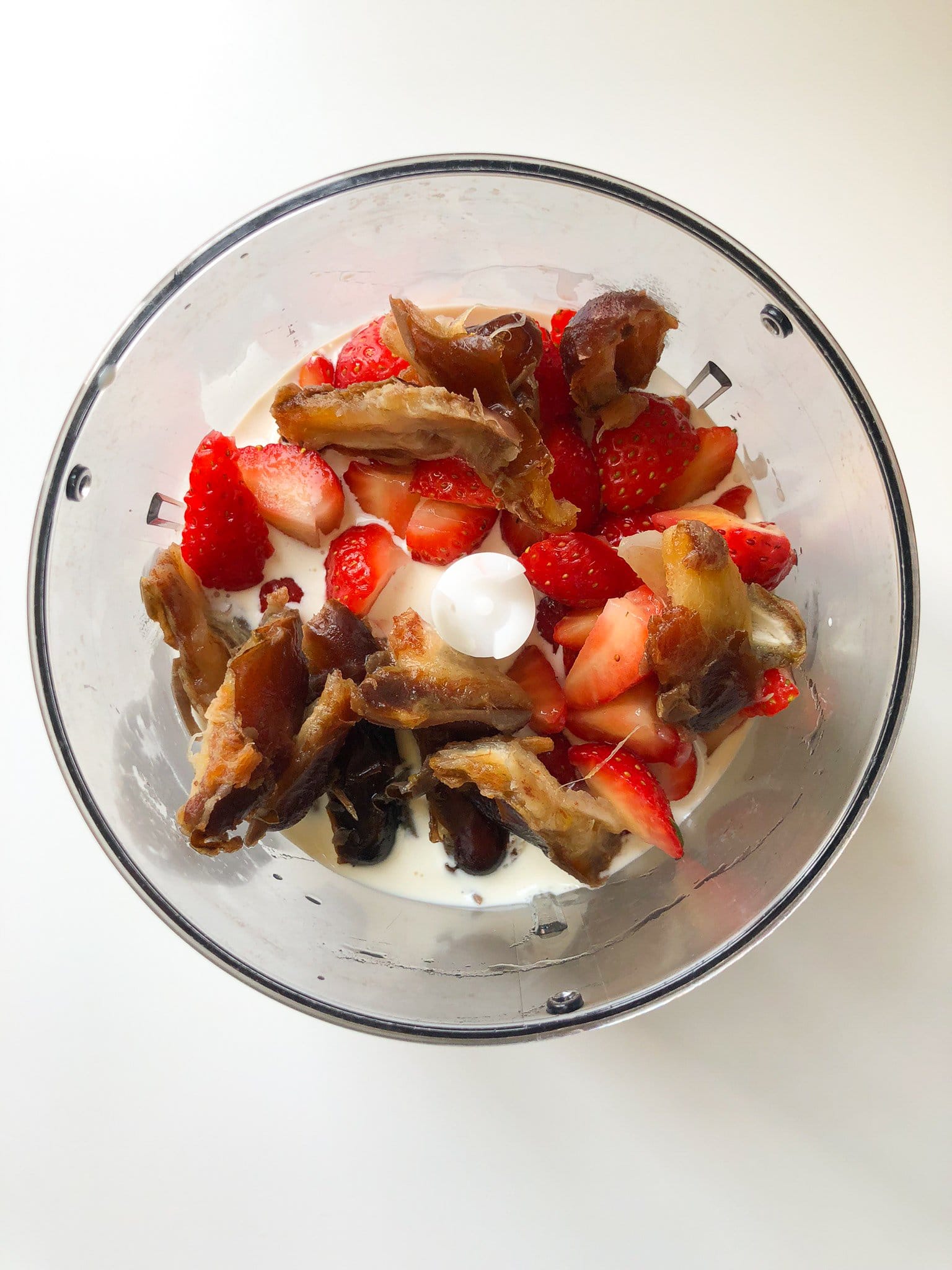 Step 3 – In a food processor bring together the ice cream ingredients: Oat cream, Strawberries and soft dates. Blend until smooth and creamy, scraping down the sides as needed.
Step 4 – Poor the smooth creamy Strawberry mix into the frozen metal loaf pan. Transfer the ice cream to the freezer for 30 mins. To achive a smoother cream Ice Cream I'm mixing it every 30 mins, 3 times.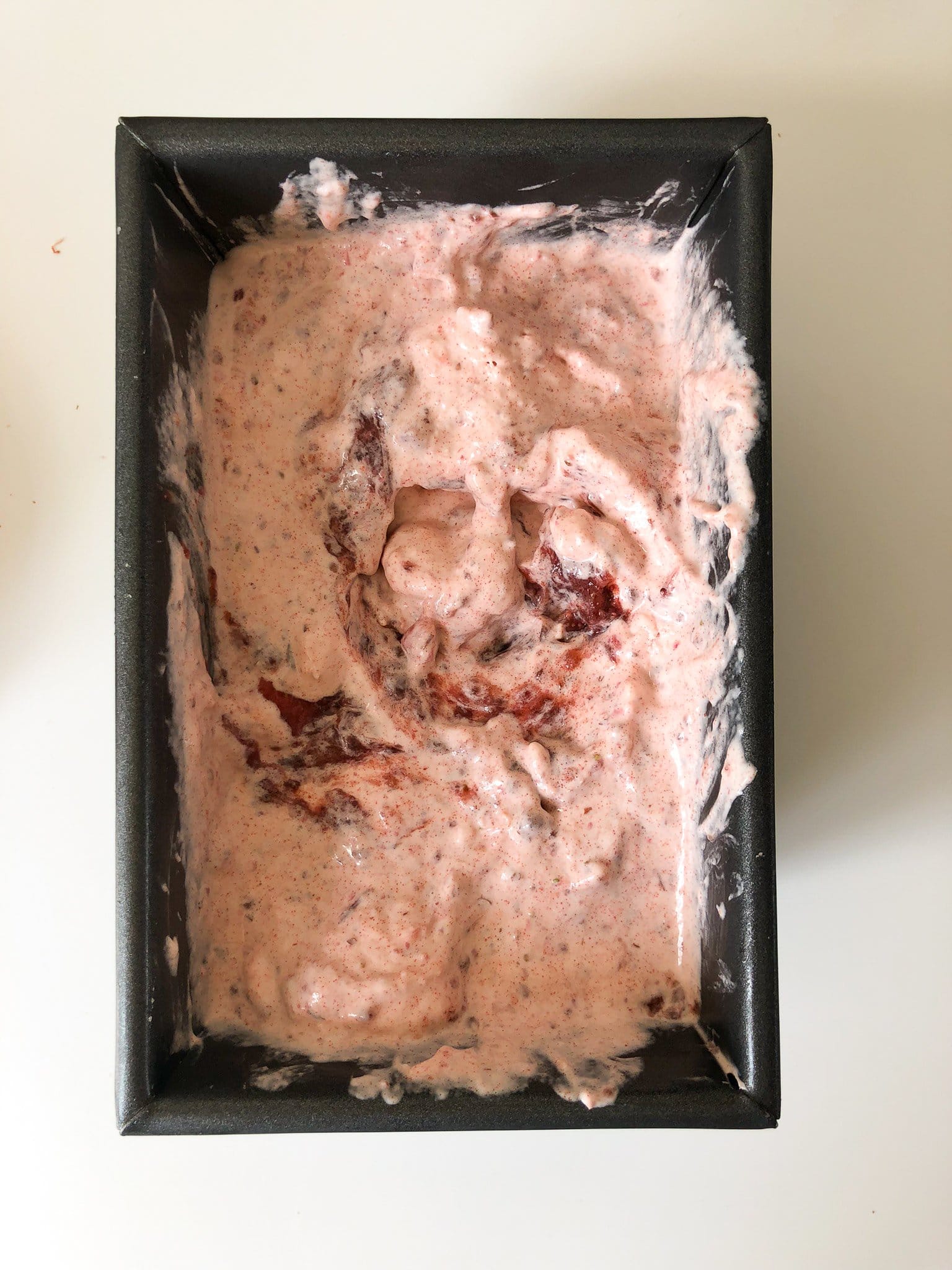 Step 5 – On the 3rd mixing turn I finally add the Strawberry compote from steps 1 & 2, making sure to mix the ice cream very well before adding the compote. It's nice to have some chunks of compote every now and then. Cover it with a lid or parchment paper.
Step 6 – Let it chill for a minimum of 4 hours. Bring it out 10-15 mins before serving. Dip your spoon in hot water to help scoop out nice balls of ice cream. Serve with fresh Strawberries, Strawberry compote or melted Chocolate.
Strawberries: Strawberries are in season and I can see them everywhere here in London so I just want to eat them and use them in as many different ways possible. With this hot weather I had to come up with this healthy ice cream recipe. I recommend to get ripe organic Strawberries so you will have a deeper natural sweet taste of Strawberries. Organically grown strawberries taste better, are more nutritious, and are better for soil and environment than are conventionally-grown strawberries. When it comes to human consumption, the most important nutrients found in strawberries are Vitamin C, phenolic compounds, and antioxidants.
Oat Cream: You can substitute with Coconut cream or Soya cream but from all my my attempts Oat Cream is the one with better results because it's neutral and creamier. I'm using Oatly double cream whippable oat.
Dates: I'm using Medjool Dates as they more available around here. Every type of date differs a bit in sweetness and texture. Get to know your dates and adjust the amount according your taste buds. While dates are a concentrated source of sugar, they're considered lower glycemic than other refined sugars. The fibre in dates helps balance out the sugar preventing such a drastic blood sugar spike. This along with the additional nutrients make dates a great sugar replacement!
Chia Seeds: These tiny seeds are highly nutritious. They're packed with fibre, protein, omega-3 fatty acids, various micronutrients and loaded with antioxidants. In this recipes they also help to thicken and bring together the compote. As we aren't using sugar, ground Chia seeds will give us the smooth and jellied texture of a sugary compote but without the sugar. Chia seeds are amazing and I always try to have a tsp a day.